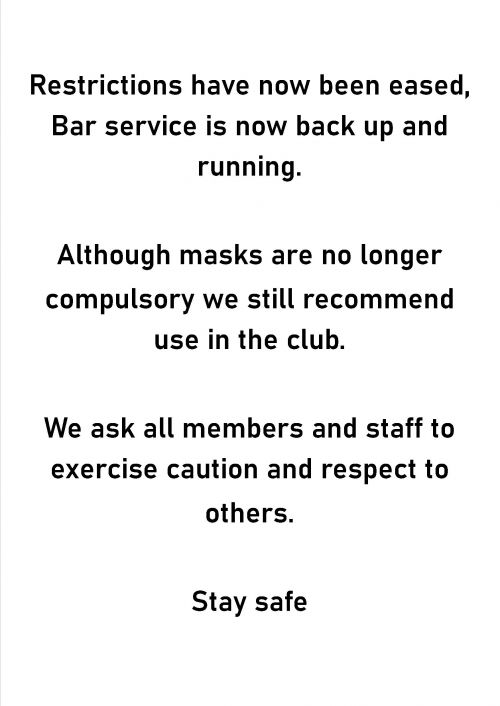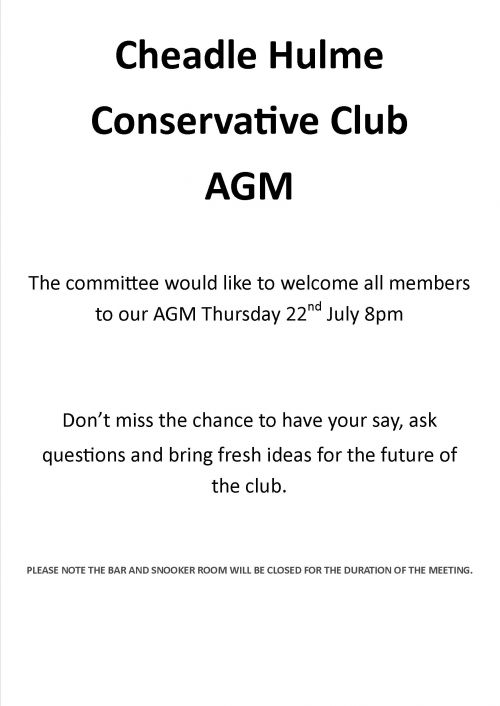 CLUB REOPENS – 17TH MAY 2021
AT LAST, THE NEWS WE HAVE ALL BEEN WAITING FOR. YOUR CLUB REOPENS ON 17TH MAY 2021.
OUR OPENING HOURS WILL BE:
MONDAY – THURSDAY 4PM – 11.30PM (LAST ORDERS 11PM)
FRIDAYS 4PM – MIDNIGHT (LAST ORDERS 11.30PM)
SATURDAY/SUNDAYS 12 NOON - MIDNIGHT (LAST ORDERS 11.30PM)
ENTRANCE TO THE CLUB WILL BE VIA THE MAIN DOOR. THE FIRE EXITS ARE FOR LEAVING THE CLUB AND SHOULD NOT BE USED FOR ENTRANCE.
WE WILL HAVE A MEMBERSHIP RENEWAL DESK IN THE MAIN ENTRANCE FOYER. IF YOU HAVE ALREADY PAID YOUR MEMBERSHIP RENEWAL, YOU WILL BE GIVEN YOUR 2021 MEMBERSHIP CARD AT THE RENEWAL DESK. IF YOU HAVEN'T YET PAID YOUR MEMBERSHIP RENEWAL, YOU WILL BE ASKED TO PAY YOUR MEMBERSHIP RENEWAL FEE OF £20. NEW MEMBERS ARE WELCOME AND THE COST FOR THEM IS ALSO £20.
COVID – 19 RESTRICTIONS
WE ARE STILL SUBJECT TO COVID-19 RESTRICTIONS. ALL BEING WELL THESE RESTRICTIONS WILL COME TO AN END ON 19th JULY 2021. THE MAIN RESTRICTIONS ARE AS FOLLOWS:
1. OUR CAPACITY IS RESTRICTED TO 50% OF NORMAL CAPACITY WHICH MEANS WE CAN ALLOW A MAXIMUM OF 70 CUSTOMERS AT ANY ONE TIME.
2. TABLES HAVE TO BE SPACED 2 METRES APART.
3. A MAXIMUM OF 6 PEOPLE OR 2 HOUSEHOLDS CAN SIT AT 1 TABLE.
4. MIXING WITH OTHER TABLES IS NOT ALLOWED.
5. DRINKS ARE PROVIDED BY TABLE SERVICE ONLY. NO-ONE MUST GO TO THE BAR.
6. FACE COVERINGS MUST BE WORN WHENEVER NOT SEATED.
7. TRACK & TRACE DETAILS MUST BE PROVIDED TO OUR STAFF WHEN THEY SERVE YOU.
8. A ONE-WAY SYSTEM OPERATES FOR TOILETS VISITS, TO THE TOILETS VIA THE SNOOKER ROOM, RETURNING TO YOUR TABLE VIA THE MAIN LOUNGE DOOR.
WE ARE AWARE THAT STOCKPORT MBC ARE CONDUCTING SPOTCHECKS OF PUBS AND CLUBS TO ENSURE COMPLIANCE WITH THE REGULATIONS. WE THEREFORE ASK YOU TO HELP US BY COMPLYING WITH THE ABOVE RULES.
WE VERY MUCH HOPE THAT WE WILL SEE YOU IN THE CLUB SHORTLY.
REGARDS
CHCC COMMITTEE MAY 2021